Gastrointestinal Hemorrhage
More about Clinical Quick Talks

Do you have a clinical topic or resource you like to use while teaching that you want to share with colleagues?
Author: Salim Rezaie

Etiology
350K hospital admissions annually in US for GIB

Estimated mortality of 2 – 15%

Acute, massive UGIB incidence of 40 to 150 episodes per 100,000 persons annually

Acute, massive LGIB incidence of 20 to 27 episodes per 1000,000 persons annually

Presentation
Microscopic blood loss = hemoccult positive stool or iron def anemia

Hematemesis = vomiting fresh blood

"Coffee-ground" emesis = black (digested) blood

Melena = Black, tarry stool

Hemochezia = bright red blood via rectum (usually LGIB, but brisk UGIB can also cause)
Initial Evaluation
Lab evaluation: CBC, Coags, Type and Cross. Also consider LFTs, Troponins/ECG (in hemodynamic compromise)

History: Use of NSAIDs and other anticoagulants, use of EtOH, Prior GI bleed (60% of repeat GI bleeds are from the same source); Prior GI/thoracic surgery

Physical Exam: Findings suggestive of cirrhosis
Diagnosis
UGIB (Above Ligament of Treitz)
Esophagogastroduodensocopy (EGD) = diagnostic tool of choice
NGL = Does not improve outcomes in GIB; 1/6th of pts with active bleed will have a neg NGL; Huang et al Gastrointest Endosc nov 2011: 193 pts received NGL & 193 did not: in retrospective analysis, bloody aspirate was associated with high risk lesion at endoscopy (OR 2.69) and therefore more likely to have endoscopy & receive it sooner, but no affect on mortality, LOS, need for transfusion or surgery
LGIB
Colonoscopy = diagnostic tool of choice
Arteriography = contrast study that can identify brisk bleeding; second line diagnostic tool
Technetium-99m-tagged RBC Scan = can identify slow bleeding (0.1 to 0.4 cc/min)
Double-contrast barium enema with sigmoidoscopy = if contraindication to colonoscopy
Small Bowel
Push enteroscopy = extension of EGD of 15 to 160cm of small bowel distal to ligament of Treitz
Barium-contrast upper GI series with SBFT = low sens (0 to 5.6%)
Enteroclysis = endoscopic placement of contrast material directly into the prox small bowel
Technetium-99m-tagged RBC Scan
Meckel's scan = high sens 75 – 100% for identifying gastric mucosa in small bowel
Capsule endoscopy = pill-shaped camera that patient swallows; diagnostic yield 66 – 69%
Last Ditch Effort
Laparotomy with intraoperative enteroscopy = only after all diagnostic tools have failed; very invasive & associated with high rates of morbidity and mortality
Prognosis
Rockall Score = best predictor of mortality in GIB (Score <3 good prognosis with <12% death; Score >8 high mortality with 75% death)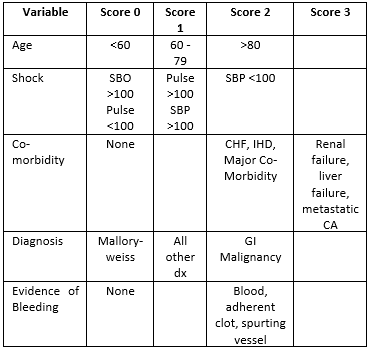 Blatchford Score = best predictor of need for endoscopy (high risk lesion) (Score 0 low risk; any score greater than 0 is high risk)


Treatment
Stability of the patient and rate of bleeding dictate the order of treatment

Hemodynamically unstable patient = 2 large bore IV, IV Crystalloid, Crash emergency release PRBCs

Benefit of conservative over liberal transfusion threshold in upper GI bleed (transfuse for Hb > 7) 19

With endoscopy, erythromycin (125mg over 5min) is as good as NGL for visualization 2

Management of coagulopathy and thrombocytopenia = no guidelines exist on management in UGIB. Correction to <1.5 is sine qua non. Elevated INR at initial presentation does not predict rebleeding in non-variceal UGIB, but INR >1.5 is associated with increased patient mortality

Octreotide = a somatostatin analog, causes splanchnic vasoconstriction. Improved control of variceal hemorrhage when combined with endoscopic treatment within 24 hours

Prophylactic Antibiotics in acute variceal bleed = Chavez-Tapia et al. Cochran Database of Syst Rev: IV ceftriaxone 1gm/d for 5 days has beneficial effect on mortality, mortality from bacterial infections, bacterial infections, rebleeding events, and LOS; If PCN allergic, quinolone is just as good and supported by American and British guidelines

PPI therapy = Sreedharan et al Cochrane Database 2010: no significant differences in mortality, rebleeding or need for surgery, but does reduce active bleeding

Timing of Endoscopy = patients with UGIB who are unstable should generally undergo EGD within 24 hours of admission after resuscitation; patients who are stable and without comorbidities should undergo EGD in a non-emergent setting to identify lesions
Pearls
NGL not proven to improve mortality, but bloody aspirate does require EGD ASAP

Erythromycin just as good as NGL for visualization on EGD

No evidence to support FFP and platelets to get INR <1.5 and platelets above 50k

Prophylactic abx in variceal bleed reduce mortality and bacteremia

PPI therapy stops acute bleeding, but has no benefit on mortality

Rockall Score is the best predictor of mortality in GIB

Blatchford Score is the best predictor of need for endoscopy (high risk lesion)
References
Allison et al. antibiotic Prophylaxis in Gastrointestinal Endoscopy. Gut. 58(6): 869 – 880. 2009.

Altraif et al. Gastrointest Endosc. 73: 245 – 250. 2011.

Augustin et al. Am J Gastroenterol. 106: 1787 – 1795. 2011.

Banares et al. Hepatology. 35: 609 – 615. 2002.

Bari K et al. World J Gastroenterol. 18(11): 1166 – 1175. 2012.

Barkun AN et al. Gastointest Endosc. 72: 1138 – 1145. 2010.

Bjorkman DJ. Journal Watch Gastrenterol. Dec 2011.

Chavez-Tapia et al. Cochrane Database. (9): CD 002907.

Huang ES et al. Gastrointest Endosc. 74: 971 – 980. Nov 2011.

Laine et al. Am J Gastro 107:345 – 360. 2012.

Leontiadis GI et al. Mayo Clin Proc. 82: 286 – 296. 2007.

Manning-Dimmitt et al. Diagnosis of Gastrointestinal Bleeding in Adults. American Family Physician. Vol 71, Num 7. April 2005.

Pallin DJ et al. Gastrointest Endosc. 74:981. Nov 2011.

Pateron D et al. Ann Emerg Med. 57: 582 – 589. 2011.

Spiegel BM et al. Arch Intern Med. 161: 1393 – 1404. 2001.

Sreedharan et al. Cochrane Database. 97): CD 005415. 2010.

Tripodi et al. Aliment Pharmacol Ther. 26: 141 – 148. 2007.

Tsoi et al. Nat Rev Gastroenterol Hepatol. 6: 463 – 469. 2009.

Villanueva C et al. Transfusion Strategies for Acute Upper Gastrointestinal Bleeding. NEJM Jan 2013; 368 (1): 11 – 21.

Yen et al. Am J Emerg Med. 15: 644 – 647. 1997.