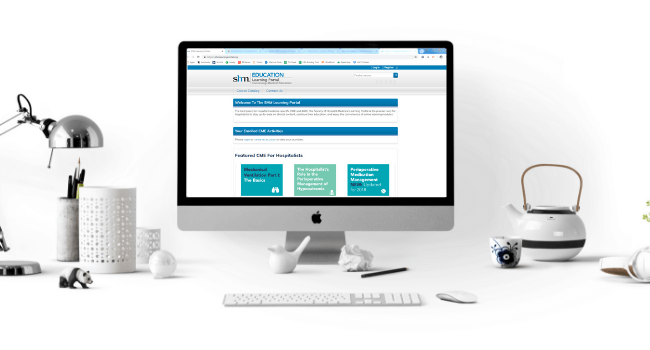 SHM Learning Portal
Earn CME credits and MOC points through the SHM Learning Portal, where you can access hospital medicine-specific education from your laptop or desktop. Members receive most Learning Portal activities free or at a discounted rate.
Explore a variety of courses with a range of time commitments outlined below. Course content examples includes airway management, critical care, neurosurgery and more.
Modules
Modules are the smallest bits of education you can consume within the SHM Learning Portal. Each module is listed with a detailed summary of the topic, goals, available credits and an estimated completion time provide full disclosure before you begin.
Series
Series are made up of a set of Learning Portal modules on the same topic. You can complete an entire series or choose one or two modules within the set. Begin a series at any time and come back to complete it later!
On Demand
Conferences On Demand give you access to audio and slide recordings from the hottest sessions and tracks. You can purchase HM19 On Demand via the Learning Portal and NP and PA Boot Camp On Demand via AAPA.
HM20 Virtual
Don't miss the opportunity to virtually experience sessions that would have been held at Hospital Medicine 2020, which was canceled due to COVID-19.
Engage with sessions from the most popular tracks, including Rapid Fire, Clinical Updates, High-Value Care and more. There will be other vital content included, such as Update in Hospital Medicine, Best of Research and Innovations and COVID-19-focused sessions. You will have opportunities to participate in live polling, engage in Q&A with faculty and network with fellow participants.
PHM20 Virtual
PHM20 Virtual consists of two components: Simulive sessions and On Demand content. Attendees will have access to simulive content that will be broadcasted during specified dates and times throughout July 20th – 24th. These sessions will allow for interactive components including Q&A between the speakers and the audience, peer-to-peer chat and audience polling.
On-Demand content will include all Abstract and Conundrum oral presentations along with numerous additional didactic sessions. This content will be released following the broadcasting of the simulive sessions. All simulive and On Demand content will be available as enduring, CME-eligible, on-demand content accessible for viewing for up to 2 years following the conclusion of the conference.